Some say, and by some I think it's probably Hallmark, that the first wedding anniversary is the Paper Anniversary. But in this family, it's the Electronic Anniversary.
We are sitting on the couch after our fancy dinner at Pinky's Steakhouse, playing with Wil's anniversary present. (It's a PSP, in case you can't tell) We are still on the waiting list for my present. Should have one by Tuesday. Black. 16GB. Oh yeah, you know what I'm getting.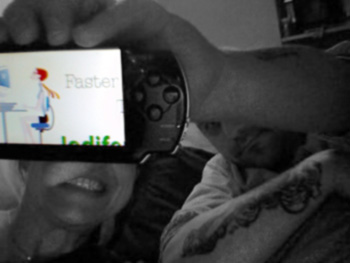 Since it's my anniversary, I just want to say, officially, my husband rocks and I loooOOOooove him to pieces.
Happy Anniversary, baby!