You might be wondering where exactly Amelia has been lately. Why she's been so quiet. For a long time I have wanted to get her framed. She's been through a lot and has a lot of wear and tear. I wanted to get her in a frame before anymore damage occurred. She is, technically, a collector's item.
Last December, before Christmas, I took her into Michael's, along with the Jim Henson/ Kermit Think Different poster and two NaNoWriMo posters, to be framed. They were having a 50% off sale, and I wanted something nice. And oh man were they helpful. We probably spent about an hour and half, choosing matting and frames. The NaNo posters were especially difficult, colorwise. It took 3 frame dept people to figure it out, with much debate. Finally, we had everything spec'd out and he started to write up the estimate. That is something he maybe should have done after the first poster, I could have saved us all a lot of time. The Think Different posters are 24 x 36, the NaNo posters 18 x 24, and really, that is quite large for a custom frame job. Each poster had a relatively inexpensive frame, but three levels of matting. It was so nice.It really made a difference.
When he added up the total for just Amelia, I almost passed out. I was expecting it to be less than that at 100%. At 50% it was ridunculously expensive. Let me put it this way, I could have framed all prints as planned, or I could have bought my husband a black MacBook with an extra gig of ram for Christmas with that kind of money. If I had that kind of money lying about. Which I did not.
I decided to go ahead and have Amelia framed. We tried reducing the cost by removing some of the matting, but it just looked so much better the way we planned it out. It hurt me to pay that much, believe me. It was extortion. I don't even have Jim and Kermit on the wall because I couldn't bare to have them look all naked and plain next to Amelia.
The picture does not do it justice. She really does look fabulous.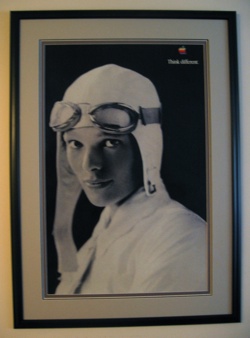 Amelia: Hey.. look at me!

Me: You look good.

Amelia: I look FANTASTIC. My posture has never been better. Can you hear me from behind the glass?

Me: Loud and clear.

Amelia: Sweet. Do you think you can wipe off that fingerprint in the lower right corner? I don't want to look smudgy.

Me: I'm on it.