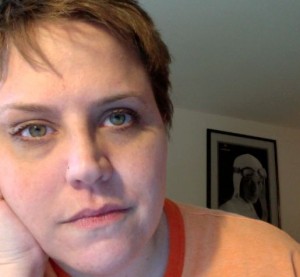 I cut off even more of my hair last week. There was a great debate going on, in my head about cutting it off vs. growing it out. I even officially asked the question on facebook. Three people replied, 2:1 for keeping it short. (Sorry, Ruth.)
I was going to keep the shaggy type hair-doish thing I had going. But my stylist, O, was feeling very feisty. He basically challenged me to go shorter. He told me I was probably AFRAID to go shorter. He thought I was SCARED.
So now, it's even shorter. I like it. I love having short hair, it's so easy! All I do is wet it, put a little bit of paste on my hands (hair paste, not the kind of paste you ate when you were a child) and finger come it. It takes SECONDS. It's awesome.
With shorter hair, I find myself being a bit more playful with makeup, and wearing earrings again. Which is "fun" and "girly." Normally I'm only "fun."
I talked to O about growing my hair out, because I do sorta miss long hair and know I will probably want to have it again. Mr Sassypants asserted that I would never make it through the rough stage. Little does he know, I've lived YEARS OF MY LIFE in a "rough stage." If I want long hair again, I'll have it, by gum!
If for some reason, this is all interesting to you – what I am doing with my hair, I've included pictures. Both of which designed not to fully display an honest shot of my current fat face. ( and both previously uploaded to Facebook, sorry for the repeat, FB) If it's not interesting to you… well, I suppose you would have left a long time ago. I only really talk about myself here.
Geez, why so defensive, Jodi.