Several days ago:

Wm: Why haven't you done one of those "what's on my tshirt" bloggy things with your new Frank Black tshirt.

Me: Probably because I haven't worn it yet.

Wm: Well DO IT! Tonight!
But, because "obey" was not in our marriage vows, I took that order with a grain of salt. I planned on wearing it today anyway, but when I got out of the shower and he was cleaning the kitchen, I knew I had to wear it. I walked into the kitchen and pointed to my shirt.
Wm: There you go. Good [pointing towards my desk] DO IT!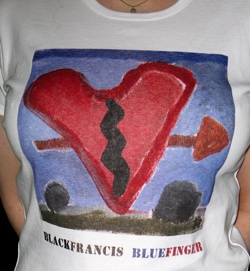 Wil is something of a Pixies/Frank Black/Black Francis fanatic. Last fall we went to see his show, which was awesome, but they didn't have shirts on sale. He found these on Frank Black's website and I ordered them. Had to have them sent to my mom, and when they did not arrive in time for her last visit, he was extremely disappointed. But my mom is awesome, so she shipped them to us as soon as they got in, proving, once again, he is the luckiest son-in-law EVER.
Frank Black was playing here last night. Only I think he's going by Black Francis again. It's hard to keep track. But when I went to get tickets last month, he was sold out. In fact, in keeping with the "paper" theme of the first anniversary present, I was going to get us tickets to Frank Black and he was going to get us tickets to Chris Isaak (one of my favorites). Both were sold out.
I think the iPhone helped with my sadness. I'll see you next summer, Chris.